Bracknell Offices Benefits From Full Office Fit-Out
Bracknell has numerous, unassuming office blocks, built in the 1970s when architectural design wasn't exactly inspirational. However, if you by chance, can take a look  inside these rather dull structures, you are often greeted by contemporary spaces with fore thinking design.
London Road is such a building. We were engaged by our clients to fully strip out this three storey office block and design a space that people would want to come to. Post pandemic restrictions, many employees are continuing to work from home so companies are making the effort to improve workspaces so encourage foot fall in the office. This can be achieved by creating fluid areas where employees use their flexible working hours. Hot desking and work pods allow the less structured working day that we have all become used to. The use of colour, sound mufflers and working zones also create a more relaxed feel. There are also traditional offices to allow for privacy and quiet working.
The completed project took all of these factors into account and the end result is truly inspiring. The space makes the most of the glorious natural light and the use of different fabrics and textures adds depth to what was once a boring open plan office.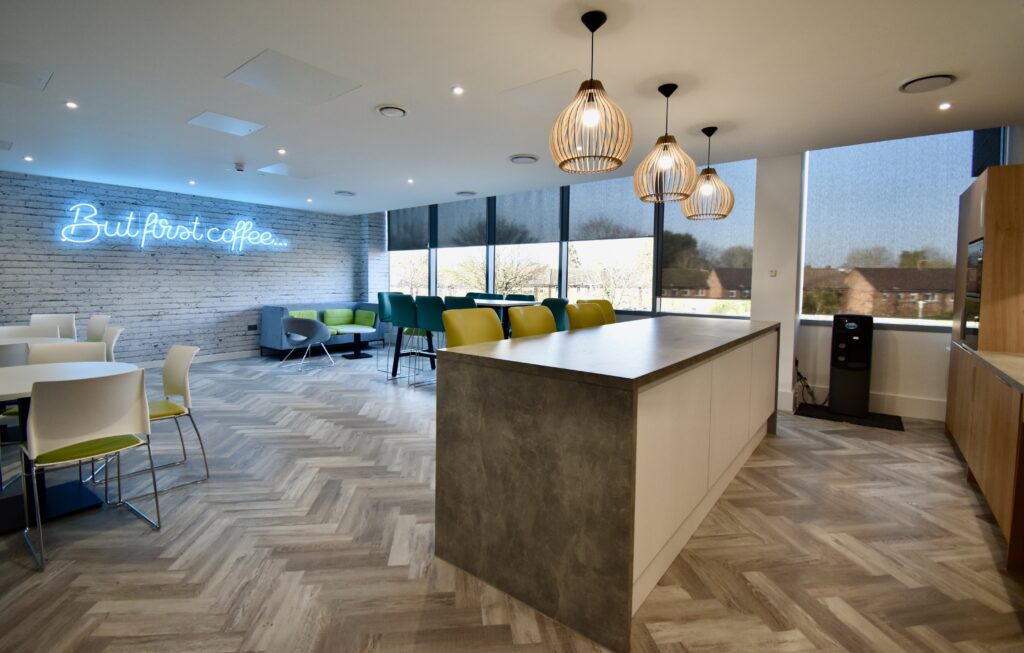 A bright, contemporary break-out area encourages down-time
The space dividers allow light to flow throughout the open plan area
The different work zones are created by use of colour